OBS! På grund av Covid-19 är APG29 2020 på Sjömansro inhiberad.
N.B. Due to Covid-19 Acts 29 2020 in Finland is cancelled.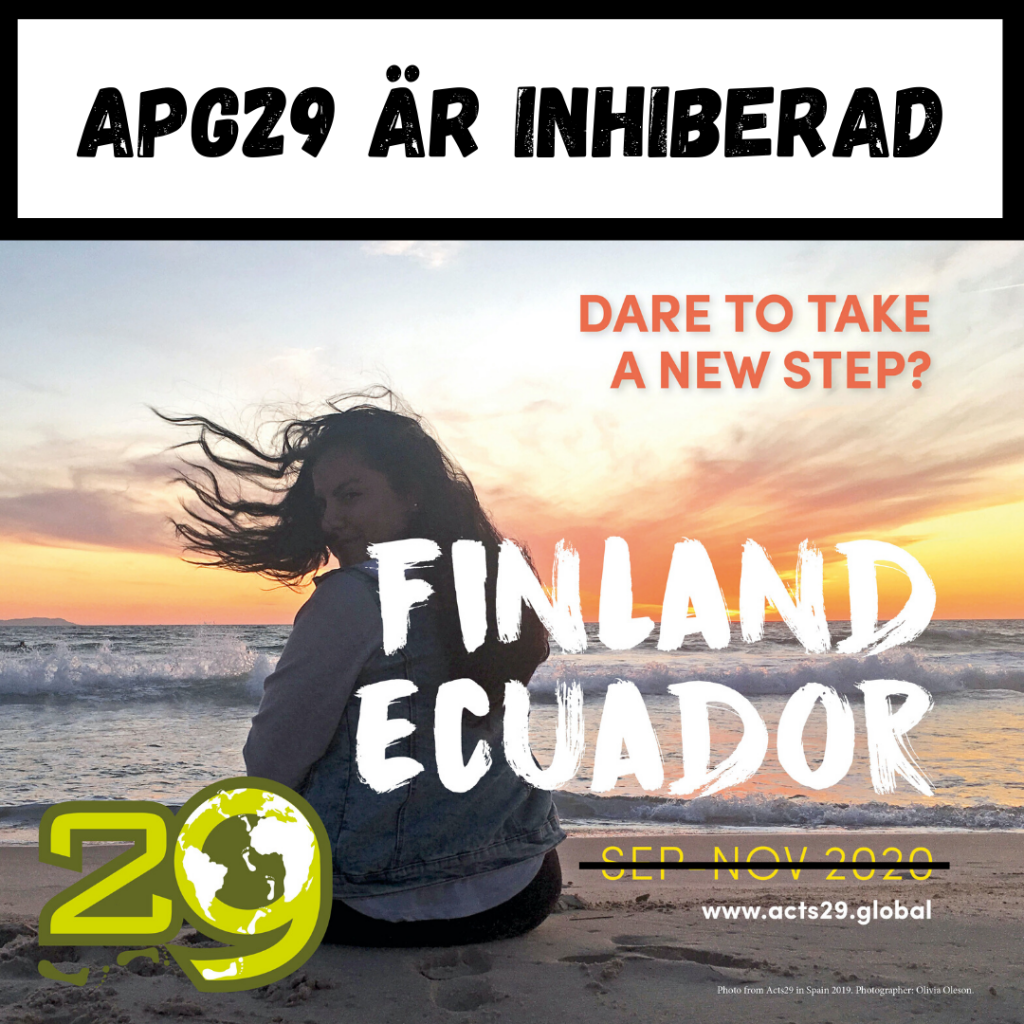 Apg29
[English down below]
Under våren 2019 ordnades en Apg29 skola på Sjömansro i Lappvik. Skolan kom att bli till välsignelse både för våra församlingar och för de som deltog i skolan.
Det är därför med glädje som vi informerar er om att Apg29 åter igen skall ordnas på Sjömansro i höst.
 Vad är Apg29?
Apg29 är en lärjunga-, ledarskaps- och missionsskola som ordnades för första gången i Montecristi, Ecuador år 2004. Sedan dess har många fler skolor ordnats i flera olika länder, t.ex. i Chile, Finland, Indien, osv.
Under skolans gång får studerande fördjupa sig i sin kunskap om Gud och Guds ord, samtidigt som de får tjäna i Guds rike på olika sätt.
Mer information om Apg29 hittar du på Apgs hemsida.
Du kan även kolla in vårt korta infobrev om Apg29.
 APG29 hösten 2020
Var: Sjömansro (eller Ecuador)
När: 14.09-06.12.20
Anmäl dig senast den 14.08.20
Kontakta Håkan Björklund för mer information: hakan.bjorklund@surfnet.fi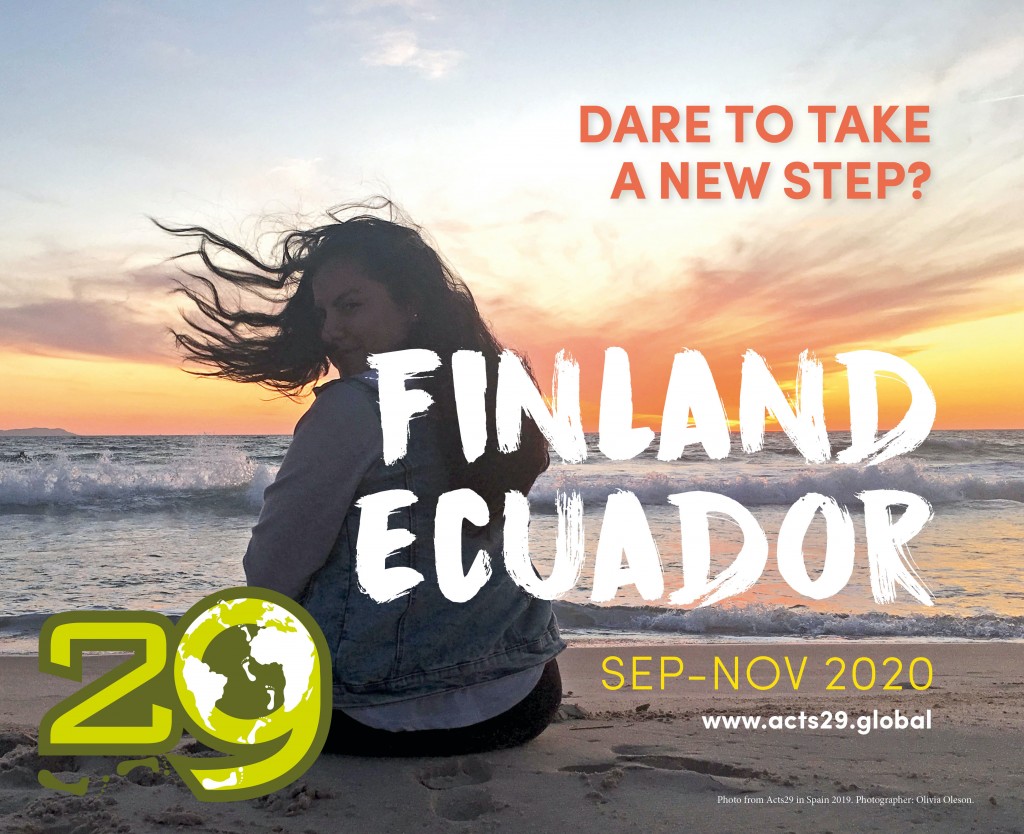 In English
Acts29
In early 2019, an Acts29 school was arranged at Sailors' Rest in Lappvik, Finland. The school turned out to be a blessing both to our churches and to the students participating in the school.
Now we are glad to tell you that a new Acts29 school will be arranged at Sailors' Rest in fall 2020.
What is Acts29?
Acts29 is a discipleship, leader training and mission school that was arranged in Montecristi, Ecuador for the first time in 2004. Since then there has been many schools in several different countries, such as Chile, Finland, India etc.
During the school, students can gain deeper knowledge about God and the Word of God (the Bible), and it will also be possible to serve the Lord in different ways (meetings, school visits, social work, practical work etc.).
More about Acts29
Just as other camps, conferences and educations, there will be costs to arrange an Acts29 school. The costs are calculated to be at least EUR 300/month. There will be times of collection of voluntary fees, when the students can participate with what they have. Those who have more may give more, and those who have less economic means may still participate.
If Acts29 sounds interesting, read more about the school on the Acts29 website: www.acts29.global.
Applications will be accepted until 14 August 2020.

Acts29
Fall 2020
Sailors' Rest, Lappvik, Finland
Last date of application: 14 August 2020
For more information, please contact Håkan Björklund.
E-mail: hakan.bjorklund@surfnet.fi
Phone: +358503620602
Arranging churches: Free Evangelical Church of Finland (MKF), Iglesia del Pacto Evangelico, Ecuador (Pacto)
Acts29/Hechos29
Fall 2020
Ecuador
Perhaps Acts29 sounds interesting, but you long to experience something new. How about going to an Acts29 school in Ecuador, which will be arranged parallel with the school in Finland. For more information about Hechos29 in Ecuador, please follow the Acts29 website, www.acts29.global. More information on the school in Ecuador will be added shortly.