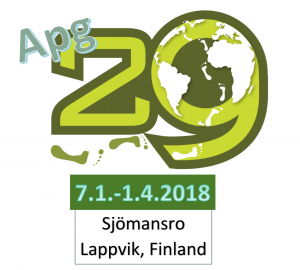 Lärjungaskolan APG 29 hålls preliminärt på Sjömansro! Apg29 är en internationell missions-, ledar- och lärjungaskola.
Vi arbetar med många olika saker just nu för att kunna förverkliga en lärjungaskola på Sjömansro. Mer information kommer småningom.
SAMARBETE : Skolan är ett samarbete mellan församlingar och samfund i flera länder. Vi räknar med att ha deltagare från Norden, Europa och Latin Amerika, m.fl länder.
DATUM: 7 januari – 31 mars, 2018
PLATS: Sjömansro, Hamnvägen 38-40, 10820 Lappvik
UPPLÄGG: Måndagar till fredagar  medan man under veckoslut är ute i närliggande församlingar och tre hela veckor vid olika tider reser alla på praktik ut i landet.
LEDARE: Förutom att vi har en till två huvudledare, har varje Apg 29- skola en grupp med hjälpledare. Det är tidigare deltagare som återkommer.
UNDERVISNING OCH LÄRARE: Huvudundervisningen är fokuserad på Markusevangeliet och Apostlagärningarna. Det är första lektionen tisdag till fredag varje vecka. Varje vecka kommer någon ytterligare lärare och undervisningar i ämnen som föreslås från Apg29 Denna undervisning sker under den andra lektionen på förmiddagen. Det kan t.ex vara om bön, den helige Ande eller liknande rubriker.
PRAKTIK VECKOSLUT: På en Apg29 är alla ute under veckosluten för praktik i team på 4- 5 personer med en ledare. Det är ett ypperligt tillfälle att stödja församlingar med evangelisation eller varför inte något pioner- arbete. Samma team återvänder vanligtvis till samma plats för kontinuitetens skull.     Om församlingar kan hjälpa till med transporter är det naturligtvis välkommet.
PRAKTIKVECKOR: Tre veckor under skolan reser alla ut i team på 4-5 personer och är hela veckan på en plats. Tanken är att det ska vara i en annan del av landet än där  veckoslutpraktiken pågår.  Enkelhet är ledordet.
EFTERMIDDAGAR: Undervisningen sker under förmiddagarna i två pass. Under eftermiddagarna  tisdag till torsdag hålls seminarier. Det kan vara språkstudier, förberedelser för helgerna, vissa specialämnen som t.ex. Kulturmöten, Sex och Samlevnad, Missionsinspiration, Hur man presenterar Jesus för människor med annan religion (Islam).
VILA: Måndagar är vilodag. Då är det inga lektioner eller semianrier. Man kan tvätta, ta promenader, läsa en bok, få egentid. Vissa måndagar är det resdag till veckopraktiken på annan plats i landets.
EKONOMI OCH BUDGET: Liksom den första Lärjungaskolan, som hölls på Soltorp (1975), praktiseras Offerglädjens stund- principen. Vi har inga fasta avgifter, men vi räknar med att var och en ber och ger under personligt ansvar.  Kostnaden för varje elevs uppehälle beräknas vara cirka 300- 350€/ månad. Kostnader för praktikresor kan tillkomma.
BIDRAG OCH STÖD: Alla kan delta, även om man inte kan vara på plats. Vi hoppas att du vill vara med i bön och stöd för skolan och elevernas välbefinnande.
International Discipleship and Leadership Bible School / Acts29
Time: January 1 – April 1, 2019
Place: Sjömansro, Lappvik, Finland
The the Free Evangelical church of Finland(MKF) organises the school in cooperation with sister churches in Spain and Argentina, and we also invite students and leaders from the Nordic, Baltic and other countries.
Costs / economy
Money is naturally needed to hold a school. We will practice "Time of joyful giving". This is a method of "free" giving according to everyone's personal means through prayer and faith in God. The calculated costs amount to about 300 euro/ month. We want all students and teachers to trust the Lord and practice this, and we want to create a common economy including food, lodging and travels to places of practice in different churches.
Acts29 is an international bible school with students and teachers from many different countries. The study languages will this time mainly be English and Spanish. We would like to welcome persons with a longing to study the Bible, travel in teams during weeks of practice and visit churches during weekends, live in an international environment etc.
In Sjömansro, Acts29 has room for 25-30 students.
Lodging: There are 14 single rooms and 8 double rooms, as well as a few family rooms.
Are you interested?
More information
web sites
Acts 29 and the place Sjömansro 2019
emails for more information:
(Krister Gunnarsson) krister.gunnarsson@equmeniakyrkan.se
(Carl-Johan Sävinger) saevinger@hotmail.com
(Håkan Björklund) hakan.bjorklund@surfnet.fi,
(Jörgen Österberg) elisjorgen.osterberg@gmail.com
Håkan Björklund hakan.bjorklund@surfnet.fi or info@mkf.fi
TIME OF JOYFUL GIVING
Time of joyful giving is a concept that was introduced in theFree Evangelical church of Finland(Missionskyrkan I Finland – MKF swe)in 1973 in order to implement a method of giving as referred to in the New Testament (NT).
The biblical background can be found in 2 Cor 8:12-15 and 9:7. The word of God also gives us other examples of how giving can be practiced in a dynamic manner.
For if the eagerness is there, the gift is acceptable according to what one has –not according to what one does not have. I do not mean that there should be relief for others and pressure on you, but it is a question of a fair balance between your present abundance and their need, so that their abundance may be for your need, in order that there may be a fair balance. As it is written, "The one who had much did not have too much, and the one who had little did not have too little."
Each of you must give as you have made up your mind, not reluctantly or under compulsion, for God loves a cheerful giver.
The key is eagerness –the eagerness to give according to the means you have and carry responsibility for each other, so that the one who has can provide for the one who does not have. In this way, the one who does not have the necessary means can still experience the joy of participating.
To give in faith, joyfully, and not reluctantly, is the key to all rightful giving.
Apostle Paul uses the churches in Macedonia as an example of the right way of giving, when he is writing to the churches in Corinth. See 2 Cor 8:1-5.
We want you to know, brothers and sisters, about the grace of God that has been granted to the churches of Macedonia; for during a severe ordeal of affliction, their abundant joy and their extreme poverty have overflowed in a wealth of generosity on their part. For as I can testify, they voluntarily gave according to their means, and even beyond their means, begging us earnestly for the privilege of sharing in this ministry to the saints – and this, not merely as we expected; they gave themselves first to the Lord and, by the will of God, to us.
Pay attention to how affliction gave them abundant joy, and extreme poverty made them so eager that they overflowed in generosity, so that they could give even beyond their means. They gave themselves to the Lord and to each other, and then they gave money. All was GRACE!!
Another example is how the people of God freely offered prior to the construction of the temple of Jerusalem and how king David could praise the Lord for all these freely offered gifts. See 1 Chronicles 29:9, 14, 16, 17.
Then the people rejoiced because these had given willingly, for with single mind they had offered freely to the Lord.
But who am I, and what is my people, that we should be able to make this freewill offering? For all things come from you, and of your own have we given you.
O Lord our God, all this abundance that we have provided for building you a house for your holy name comes from your hand and is all your own.
In the uprightness of my heart I have freely offered all these things, and now I have seen your people, who are present here, offering freely and joyously to you.
In this passage, the key words are freely, single-mindedly and gifts. Furthermore, all that the people had comes from God, and now they gave it back to Him, "and of your own have we given you".
This view of what I own, that all resources are actually God's resources, means that each time of giving is a time of joy, when we may return to God what we have received from Him.
In practice, time of joyful giving is usually started in prayer, when everyone in prayer finds out how much to give. You ask the Lord, and perhaps you get an answer. If no answer is received, everyone gives according to the known economic needs in the present fellowship.
During all the years since time of joyful giving was introduced in MKF, it has been used in conferences, bible schools, camps and churches, and fixed fees have been abandoned. As a rule, it has worked and been a way to joy and blessing, and it has also helped people find out that giving is a gift.